Newark Lead Crisis: Why Are the Water Filters Not Working?
Newark Lead Crisis: Why Are the Water Filters Not Working?
RSS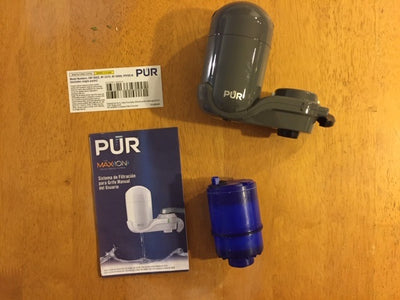 Eric Roy, Ph.D.
As a chemist, I was disappointed (but not surprised) to learn that a water filter made by Pur is having performance failures in Newark, despite being certified to remove lead. The goal of this article is to explain how water filter testing/certifications work, and to point out the most common reasons why a certified product can fail under real-world conditions
How Does Water Filter Certification Work?
Before going into the specific technical reasons why filters could have failed, it's important to understand how and why water filter companies undergo 3rd party certifications from organizations like National Sanitation Foundation (NSF). 
Any water filter company that wants to get their product "certified" must: 
Pay the certification agency to test that the product meets the specifications of the test protocol (more on this below).
Pay for project management, site visits, and listing fees to "maintain" the certification.
In addition to strengthening their marking claims, there are business reasons why water filter companies elect to pay the high cost of obtaining certifications instead of demonstrating that their product works through independent laboratories. For example, certain government entities require that products carry specific certifications to back marketing claims, and often times carrying these certifications opens up the door to large-scale government procurement (the City of Newark purchased over 35,000 of these filters for their citizens).
NSF/ANSI Standard 53 Test Protocol For Lead Removal
A lot of the people we talk to are surprised to learn that the criteria used to performance test water filters is standardized and, and may not apply to their water.
In the case of "NSF certified" filters for lead removal, the filter must reduce lead from 150 parts per billion to a certain level in room temperature water that is free of other of harmful contaminants. These tests are run at 2 different pH values (6.5 & 8.5), for the manufacturer-specified lifetime of the filter (in gallons), at a manufacturer-specified flow rate (in gallons per minute).
Water filter companies don't get extra points for: reducing lead to undetectable levels, being able to handle higher lead concentrations, performance in the presence of other metals, having consistent performance across the entire gallon capacity, operating at higher flow rates, or performing tests at different pH values. In the eyes of certification bodies, filters either meet the performance specification or they don't.
Understanding the framework of "certification" is important in understanding why products that are certified to remove lead can fail under real-world conditions. 
Newark's Water May Not Be Well Represented by Product Testing Procedure
As we discussed earlier, "certified" filters undergo a standardized testing protocol in a controlled laboratory environment. Unfortunately, controlled laboratory studies don't always match the real-world conditions found in customer's homes.
For example, the filter's real-world performance can break down if:
The water's initial lead levels are above 150 parts per billion
The filter was flowing at a faster flow rate than specified
The temperature of the water is different than the test protocol
If other contaminants are present in the water that consume the lead removal media
The End User May Have Used the Filter Outside of Manufacturer's Specifications
Sometimes the consumer misunderstands how to read the manufacturer's specs. For example, water filters are rated for a gallon capacity, which the manufacturers translate to an approximate filter lifetime, based on normal usage. For example, a filter that is rated to handle 100 gallons of water with 150 ppb lead might have a 3 month estimated lifetime based on "normal use." However, if the end user passes 100 gallons of water through the filter in a single day, the capacity will be saturated in a day. During the Flint lead crisis, we learned that families were using a single filter to fill up large water jugs for bathing, because they thought that the water filter's expiration was time based, not a gallon capacity. Unfortunately, this practice saturated the filter with lead much more quickly than the estimated lifetime.
Poor Manufacturing QA/QC or Changes to the Filter
It's well-understood that quality control can suffer when manufacturing is transitioned to low-cost factories. If the cartridge manufacturing facility quietyly changed anything about the filter's construction, or there was a QA/QC lapse in production, the certification agencies may not catch the performance change until the next testing cycle (which is typically every 5 years). 
The Type of Filter Distributed by Newark Allows Users to Easily Operate the Filter out of Spec
One of the negative things "end of faucet" filters is that the user can easily run hot water through the filter. Manufacturers of these products issue guidance against it in their spec sheets, but people regularly ignore the warnings so they can have filtered hot water (or so they think). What isn't necessarily obvious to the consumer is that hot water can impact the performance of a water filter because hot water typically has much higher lead and other heavy metal levels than cold water. This is due to a number of factors (e.g. residence time in hot water tanks, temperature dependence of metal leaching). If an unexpectedly high "slug" of heavy metals flowed through the cartridge, the lead removal media will become saturated faster than the gallon rating on the package. Once the filter is saturated, it's useless. On top of this, hot water often has higher concentrations of bacterial and other particles that can "foul" a filter and negatively impact the performance. 
Takeaway Message 
Unfortunately, the filters in Newark are not performing to the levels that the customer (City and Citizens of Newark) was led to believe by the filter manufacturer. Hopefully, this event will prompt cities to independently test water filters before using public funds to purchase them.
Full Disclosure: Despite being critical of the "pay-to-play" nature of certification, Hydroviv Undersink and Refrigerator Line systems have undergone NSF certification for lead removal. You can find our NSF 53 listing here.