Overwhelmed By Water Filter Choices? Dr. Eric Roy Breaks It Down For You
Overwhelmed By Water Filter Choices? Dr. Eric Roy Breaks It Down For You
RSS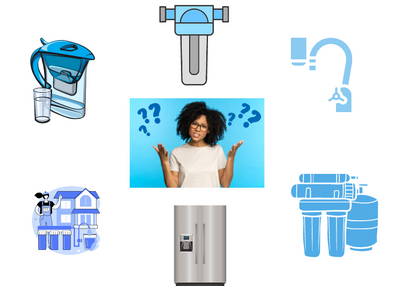 Why this matters: 
Undersink Water Filters
What Are They: 
Undersink water filters are stored in the cabinet under your sink, and can either attach directly to your cold water line or to a separate dedicated faucet for filtered water. Undersink filters remove contaminants at the point of use. 

Advantages: 
The surface area for most undersink water filters, including

 

Hydroviv's, is large enough to allow for enough contact time with incoming water to allow for sufficient filtration. Hydroviv filters take this a step further. Because contaminants in tap water can vary state by state, and even by zip code,

 

Hydroviv

 

creates custom water filters that are tailored to remove contaminants in your specific tap water.
Point of use filters allow you to filter out any contaminants that may be picked up by drinking water as it flows through the pipes. 
In most cases installation is fairly standard and straightforward, and should be a fairly simple DIY project. 
Disadvantages: 
Some companies require a "designated faucet" just for drinking water. You would need to drill a hole in your existing countertop if you don't already have one for installing the second faucet.
When searching for undersink water filters, you'll want to look at technical specifications to see if you'll need a separate faucet. 

Gravity-Fed and Pitcher Water Filters
What Are They: 
Filters including pitcher-style filters like Brita and countertop systems like Berkey. The performance of these types of filters is directly related to the speed at which water flows through the system. 

Advantages: 
Pitcher style filters are portable, so you can use when traveling.
There's no installation required. 
Disadvantages:
Many counter-top gravity filters can take up a significant amount of counter space. 
Many gravity-fed and pitcher filters do a really good job removing chlorine, but often not much else. Not all pitcher filters are the same, so check the manufacturer for removal data for specific contaminants. 
If a gravity-fed system claims "fast filtration," you'll want to take a closer look at its specifications. For many contaminants, you actually want longer contact time with the filtration media. 
If your drinking water has things like lead, chromium 6, PFAS, and other harmful contaminants, gravity-style filters may not do the job for you.
End-Of-Faucet Filters
What Are They: 
Faucet filters are installed at the end of your faucet. Pur is one of the most popular brands to make this style of filter. This filters your water at the point of use, including the water that flows through the faucet.
Advantages:
You can activate or turn on the filter at the faucet when you want filtered water, and turn it off when filtered water is not needed.
Installation on appropriate faucet styles should be fairly straightforward and not require a plumber. 
Disadvantages:
These filters cannot be installed on many popular faucet styles.
Lead levels in unfiltered incoming water could be higher than what the filter was tested against in a lab. For example, lead levels in New York City, Flint, Michigan, and Newark, New Jersey have been detected well above 200 parts per billion, while NSF certified faucet filters are tested to only 150 parts per billion. 
Second, the water may flow faster than it was rated for, preventing sufficient contact time with filtration media.
The small size of the filter does not provide for significant removal capacity, meaning filters will need to be changed out frequently. 
If your water has a variety of harmful contaminants, the lead-removal capacity can be significantly reduced. 
Case Study: Newark, New Jersey distributed Pur end-of-faucet filters to residents during the summer of 2019 after the city discovered that it was in exceedance of the federal Action Level. The filters provided by Newark city officials did not remove lead. Click here to learn more.
  Whole House Filters
What Are They: 
Whole house filters are installed at the point of entry of when the water enters the house, so they're usually located outside the home or inside the garage. 
Advantages:
 They filter all of the water coming into the house. 
If you are using a private well and have a sulfur or sediment problem, you may benefit from a whole house filter as a prefilter to screen out sediment or filter out the sulfur. 
Disadvantages: 
Because the water is filtered at the point of entry, about 90% of the water filtered at the whole house level (and realistically doesn't need to be filtered) gets flushed down the pipes. For example: flushing toilets, watering the lawn, washing cars, or used for laundry. 
The filter removes chlorine at the point of entry (whole house), so bacteria can build up in the pipes and water tanks.
Flow rate at the whole house level needs to be fast (to allow the high flow into the home) so it doesn't allow for sufficient contact time with filtration media, resulting in limited contaminant removal.
Installation requires the services of an experienced licensed plumber. 
  Reverse Osmosis (RO) Systems
What Are They: 
Reverse Osmosis or RO water filters use a type of filtration technology that pushes water through a semipermeable membrane to remove contaminants. The term "reverse osmosis" describes the technology used, but it does not indicate anything about the performance of the system.

Advantages: 
RO technology is effective at removing nitrates and other salts from water. 
RO water has had minerals stripped from it, so you'll likely see reduced mineral buildup on pots, pans, or appliances if you cook using RO water.
Disadvantages:
Systems don't always work as advertised. Some systems are poorly designed and use low-end components so they 

don't

remove contaminants including l

ead, arsenic, and PFAS.

Excessive water usage: 

Most residential RO systems require 3-15 gallons of unfiltered water to generate 1 gallon of filtered water, so after an RO system is installed, your water usage will go up significantly, as well as your monthly water bill. 

Expensive: In addition to greatly varying system costs, systems maintenance will need to be done regularly to prevent chlorine from "backflowing" into finished water. This often happens without the homeowner even realizing, and is very expensive to fix.
Installation: First, if you're a renter or have a recently installed a granite, quartz or stone countertop, you may not be able to install the system, as RO requires drilling a hole in the countertop. Second, RO systems generally require installation by a licensed plumber. Finally, the pre-filter membrane must be changed frequently to prevent chlorine from "backflowing" into finished water. 
In Short: There's a ton of variability when it comes to filtration performance, so you need to ask for third party test data when shopping for an RO water filter. If you are determined that RO is the right choice for you, we recommend going with this APEC system (that we've tested and highly recommend) because in addition to removing fluoride and minerals, it is rated to remove things like lead, arsenic, and chromium 6 as well.
  Refrigerator/Ice Maker Filter
What Are They:  Most fridge filters are built into the refrigerator, and filter the water for ice as well as the water coming out of the beverage dispenser. Icemaker filters are designed to filter the water that's used to make the ice.

Advantages: Most refrigerator filters are typically designed to improve the taste of drinking water, so they mostly remove chlorine. 

Disadvantages: 
Most refrigerator filters are not designed to actually remove harmful contaminants.
When you don't change a fridge filter cartridge according to manufacture specification, the cartridge can over-saturate and cause contaminants to leak in "filtered" water.
A recent

 

Duke University PFAS filtration study

 

highlighted various fridge filter brands that put harmful contaminants back into filtered water. 
If you have young children that use the fridge spigot for drinking water, bear in mind that children are most susceptible to health impacts associated with exposure to contaminants such as lead, chromium 6, and PFAS. Hydroviv makes a refrigerator/icemaker filter system that can be installed in an adjacent cabinet or before your fridge. 
When choosing a water filter,

ask yourself these 2 questions: 
1. Does it work?
 Check the filter manufacturer's claims on contaminant removal and ask to see their data!  
2. Will it work FOR ME? 
Is it easy to maintain?

Do I live in an apartment?

Am I able to drill into my countertop?

Do I have young children who might be susceptible to lead exposure?

How much money am I willing to spend

on maintenance?
Hydroviv makes it our business to help you better understand your water. As always, feel free to take advantage of our "help no matter what" approach to technical support! Our water nerds will work to answer your questions and provide contaminant and water quality info for water in you area. Reach out by dropping us an email ([email protected]) or through our live chat (https://hydroviv.com). 
Other Articles We Think You'll Enjoy:
Does Boiling My Water Purify It?
Why Is There White Chalky Residue On My Cookware?
Don't Drink Or Cook Using Hot Water From Your Faucet!