Chromium 6 From Electroplating Facility In Michigan Threatens Drinking Water
Chromium 6 From Electroplating Facility In Michigan Threatens Drinking Water
RSS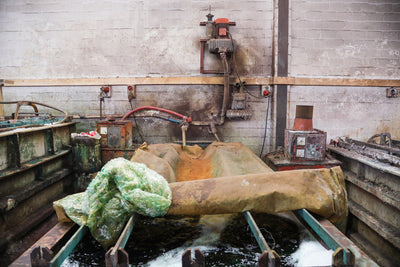 Analies Ross-Dyjak, M.A.  |  Policy Nerd
Another environmental tragedy is threatening drinking water in a Detroit suburb. A chromium 6 spill startled commuters traveling on Interstate 696 just days before Christmas. Michigan has been dealing with polluted drinking water, including state-wide contamination from both chromium 6 and PFAS. 
Images courtesy of Michigan Department of Environmental Quality
What Happened In Madison Heights, Michigan?
Lime-green sludge spilled over onto Interstate 696 in Michigan just days before Christmas. The source of the pollution was a closed electroplating facility in Madison Heights, Michigan. The owner of Electro Plating Services is currently serving a year in federal prison for improperly disposing various toxic contaminants including chromium 6, trichloroethylene (TCE), and cyanide. A dug pit was also identified on the property. The owner had apparently been illegally disposing of the effluent for years, resulting in an extremely unsightly pit of chemicals. After the operation closed in 2017, the Environmental Protection Agency (EPA) and Michigan Department of Environment, Great Lakes, and Energy (formerly known as Michigan Department of Environmental Quality) allegedly removed the contents in the facility but failed to remediate the surrounding soil and groundwater. In the initial remedial efforts in 2017, EPA found 37,000 gallons of chromium 6-contaminated water in the basement of the facility.
What Is Chromium 6?
The National Institute of Health (NIH) has determined that chromium 6 causes "clear carcinogenic effects" and that it should be classified as likely to be a human carcinogen through ingestion of drinking water. Chromium 6 is used in various industrial processes including metal plating, steel production, leather tanning, textile manufacturing, and electroplating. Discharge from any number of these industries can cause chromium 6 to flow through surface or groundwater and enter a drinking water source. Chromium 6 is still not regulated by the United States Environmental Protection Agency. 20 years later after the 2000 blockbuster movie starring Julia Roberts brought national attention to this human carcinogen, the federal government has yet to set an "allowable level" in drinking water.
Inaccurate Reporting
As we've been watching this disaster slowly unfold, we've seen numerous instances of false information regarding chromium 6 and the spill. For example, some news agencies have made false statements claiming that chromium 6 is not dangerous when ingested through drinking water, and that it's only toxic to humans through inhalation or dermal contact. NIH and other public health organizations have determined that it is in fact carcinogenic to humans. Additionally, the state of California tried to set a state Maximum Contaminant Level (MCL) of 20 parts per trillion in drinking water, confirming its toxicity to humans. A second news source claimed that if chromium 6 from the spill made its way to Lake St. Clair, the levels would be "well below the standard." As previously stated, there is no federal or state standard for chromium 6.
Our Take:
We cannot rely only on environmental regulations alone to protect us from hazards. In this case, post-production remedial efforts by the EPA and Michigan EGLE failed miserably.

The owner of the facility most likely had no other choice but to dump pollution into a pit because proper handling and disposal of chromium 6 is expensive. Incentives for proper disposal serve the best interest for workers and the public.

People who rely on private wells for drinking water should pay close attention to this incident. Private wells are not regulated by the federal government and do not need to comply with National Primary Drinking Water Regulations. The basic analysis that most private wells undergo only tests for 5 or 6 contaminants, most of which are biological and certainly nothing that isn't regulated.

Consumers need to be responsible for protecting their families from environmental exposures.
Other Article We Think You Might Enjoy:
Chromium 6 In Drinking Water: Background, Exposure, Toxicology
How To Filter Chromium 6 From Drinking Water
Chromium 6 Spilled Into Lake Michigan: What You Need To Know