Does Your Home Have Lead Plumbing? Here's How To Tell
Does Your Home Have Lead Plumbing? Here's How To Tell
RSS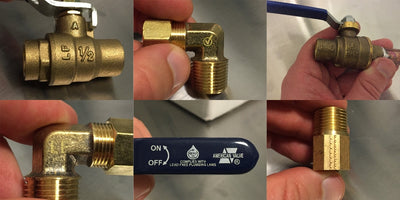 Eric Roy, Ph.D.  |  Scientific Founder
We get a lot of questions about lead service lines and how to tell if you have lead pipes, and we thought that it would be worth putting together an article that talks about some of the lesser known places where lead can exist in residential plumbing. Most people are surprised to learn that up until 2014, EPA allowed lead exist in fixtures & valves used for drinking water lines!
The Evolution of "Lead Free" Plumbing
When the Safe Drinking Water Act (SDWA) was amended in 1986, it mandated that residential plumbing could not use any pipe, pipe fitting, solder, flux, or fixture that was not "lead free." While the term "lead free" seems pretty straightforward, the law allowed for the definition of "lead free" to evolve. The chart below shows allowable lead levels in solder, pipes, fittings, and fixtures through the 25+ years that lead was phased out of plumbing. It's worth pointing out that, it wasn't until very recently (2014) that all pipes/fittings/fixtures used for drinkable water were required to contain negligible amounts of lead.
Maximum Levels of Lead Allowed in Residential Plumbing 
| | | |
| --- | --- | --- |
|  Years |  Solder/Flux | Pipes, Fittings, Valves |
| Before 1986 | 50% | 100% |
| 1986-2014 | 0.2% | 8% |
| After 2014 | 0.2% | 0.25% |
Note: Things like toilets, urinals, bidets, tub fillers, shower valves are excluded from these regulations 
How to Determine If Plumbing in Your Home Is Lead Free
Solder: Unfortunately, there is no easy way to visually tell how much lead is in soldered joints after the connection is made. If you are getting plumbing work done, it's ok to ask your plumber to see the package for the solder that they are using. It should prominently say "lead free" on it.
Pipes/fittings: Because there are certain applications (toilets, showers, tub fillers) where plumbing components are allowed to contain lead, you can still buy lead-containing plumbing components at the hardware store. We have seen many applications in customers' homes where lead-containing components were mistakenly used in an application that required lead free components. Anything that complies with the 2014 lead free standard is clearly marked with some sort of "LF" or checkmark label to indicate that it meets the most recent lead free standard:
What To Do If Your Home Has Lead Plumbing
As the US has become increasingly aware of lead contamination in drinking water because of the ongoing crisis in Flint, recent violations in large cities like Pittsburgh, and longstanding lead problems in old cities like Chicago and New York City, more and more people are asking what they can do to minimize their family's exposure to lead.
The best way, bar none is to:
If you are unable to use a rated filter, or if the filter you use does not protect against lead (like most pitchers and fridge filters), you can take the following steps to minimize exposure:
Allow your faucet to run for at least 2 minutes before collecting water for consumption (drinking/cooking/washing food). Doing so allows the water sitting in the pipes to flush out and be replaced by fresh water flowing through the large mains.
Only use the faucet at a slow flow rate when collecting water for consumption. Doing so minimizes the amount of lead particulates that can be swept into the stream and carried to the faucet.
As always, we encourage everyone to take advantage of Hydroviv's "Help No Matter What" technical support policy, where we answer questions related to drinking water and water filtration, even if you have no desire to purchase our products. Drop us a line about lead pipes in homes at support@hydroviv.com, or use our live chat function.
Related Articles:
Does New York City Tap Water Expose More People To Lead Than Flint?
Pittsburgh's Lead Level Exceeds EPA Limits In 2016
Why You Are Being Mislead By Your TDS Meter