Breaking: ATSDR Releases Toxicological Profile for Perfluoroalkyl Substances
Breaking: ATSDR Releases Toxicological Profile for Perfluoroalkyl Substances
RSS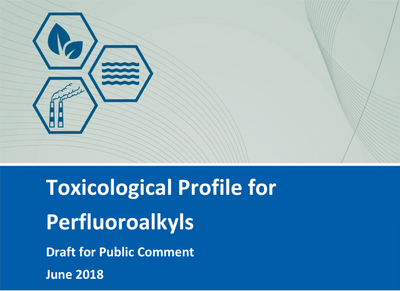 Analies Dyjak  |  Policy Nerd
The Agency for Toxic Substances and Disease Registry (ATSDR) just released a draft toxicological profile for Perfluoroalkyl Substances such as PFOA and PFOS. This category of emerging contaminants have flooded news headlines this past year, even though they've been persistent in the environment since the 1950's. PFOA and PFOS are ingredients used in the production of non-stick materials like Scotchgaurd, Teflon, and firefighting foam. The risk to human health is "unknown" but exposure has been linked to various types of cancer, developmental issues, and preeclampsia in laboratory animals.
June 20, 2018 ATSDR Toxicological Profile for Perfluoroalkyls
Municipalities across the country have been demanding that government agencies expedite toxicological reports for this dangerous class of contaminants. Wilmington, North Carolina and several Michigan municipalities are just some of the locations that have been severely impacted by perfluoroalkyl contamination. Unfortunately, GenX, the most popular PFAS was not included in this particular toxicity study. This toxicological profile included provisional Minimal Risk Levels for both PFOA and PFOS. A Minimal Risk Level (MRL) is a non-enforceable standard, similar to an EPA health advisory level. The Agency for Toxic Substances and Disease Registry recommended reducing EPA's non-enforceable health advisory from 70 parts per trillion to 20 parts per trillion for drinking water. This means municipalities across the country may be in exceedance with this new health recommendation, so people should stay current with public notices in their area.
Are Perfluoroalkyls Now Regulated? 
It's important to note that this toxicity study does not mean that PFOA and PFOS contaminants are now regulated. The Agency for Toxic Substances and Disease Registry can only make recommendations and provide scientific data regarding this class of contaminants. It's now up to regulatory agencies to comb through these data and make decisions to ensure that public health is protected. The regulatory process in this country, especially for toxic substances, can take upwards of decades. A regulation proposed by EPA or CDC could take years to draft and even longer before it's enforceable.
Our Water Nerds are working around the clock to help make sense of this 852 page document. We'll be reviewing the document and providing information on our Youtube, Facebook and Twitter accounts. Make sure to subscribe and follow Water Nerd TV on Facebook to stay up to date!
Other Articles We Think You Might Enjoy:
Everything You Need To Know About PFAS, PFOA, and PFOS
GenX Contamination in North Carolina
Recap of The 2018 PFAS Summit