Does My State Regulate PFAS Chemicals in Drinking Water?  
Does My State Regulate PFAS Chemicals in Drinking Water?  
RSS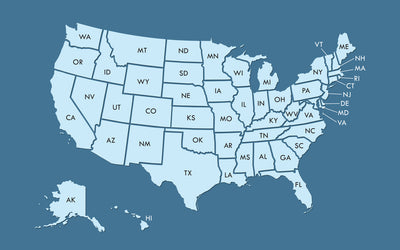 Christina Liu, B.S., Science Team, and Analies Dyjak, M.A., Head of Policy 

States are responding to the nationwide PFAS crisis by implementing testing or removal requirements in municipal tap water. Per and Polyfluoroalkyl Substances (PFAS) have been detected in an increasingly alarming number of municipalities across the United States. Recent studies indicate that 200 million Americans drink tap water contaminated with PFAS chemicals. There are currently no federal regulations that require water providers to address this harmful tap water contaminant. 
What Are PFAS And Why Are They a Concern?
PFAS are toxic and can potentially cause cancer even at extremely small concentrations. They're measured in parts per trillion, and one part per trillion is equivalent to one drop of water in 20 Olympic-sized swimming pools. Because PFAS are a new and emerging contaminant, extremely small, and don't break down in the environment, they're difficult to remove from drinking water at the municipal treatment level. If you're curious about the other health impacts associated with exposure to PFAS chemicals, click here.
No Current Federal Water Quality Standards for PFAS Chemicals
The federal government implements water quality standards to protect human health. Lead, Arsenic, and Disinfection Byproducts have nationwide standards because they are known to cause negative health impacts at certain concentrations. Water quality standards however must consider the cost of removing a contaminant and the feasibility for any given community, compromising their overall effectiveness. There are currently no federal water quality standards for PFAS chemicals, despite their known toxicity in drinking water. In 2016, EPA established a non-enforceable Health Advisory of 70 parts per trillion for an aggregate of two PFAS variations, PFOA and PFOS.

EPA's New Guidelines for PFAS
In 2022 EPA proposed to reduce the current Health Advisory Level of 70 parts per trillion for PFOA and PFOS combined, to 0.004 parts per trillion for PFOA and 0.02 parts per trillion for PFOS. This reduction is over 17,000 times lower than what was considered safe by EPA just 6 years ago. EPA also introduced Health Advisory Levels of 10 parts per trillion for GenX and 2,000 parts per trillion for PFBS. It's important to note that a Health Advisory Level is the amount of a contaminant that is NOT likely to cause negative health impacts. For example, drinking water with PFBS at a concentration above 2,000 parts per trillion could cause adverse health effects, according to EPA.
EPA admits that these super low levels could be very difficult to identify with current methods of detection: "It is possible for PFOA or PFOS to be present in drinking water at levels that exceed health advisories even if testing indicates no level of these chemicals" and that PFOA and PFOS can only "be reliably measured using specified analytical methods in appropriate laboratory settings." While the intention of these new Health Advisory Levels are in good faith, they're setting up municipal treatment plants to fail - especially those in rural and underfunded communities. 
"My state has a guidance level for PFAS so therefore I must be protected." This isn't entirely true. Unfortunately Health Advisories, Health Goals, Guidance Levels, and other similar legalese are non-enforceable. State officials can make recommendations but it's really up to municipalities to implement necessary changes. The tables below describe the most current* state regulations and advisories for PFAS levels in drinking water.
Enforceable: Maximum Contaminant Level (MCL) & Action Level (AL)
Non-Enforceable: Health Advisory Level, Health Goal, Guidance Level, Notification Level, Translation Level, Toxic Pollutant Standard
States With PFAS Regulations*
 *Last Updated September 8, 2023
What Does This Mean For My Drinking Water?
PFAS contamination is likely to become more pervasive and widespread in the future, and regulatory action, if it happens, will be implemented slowly, even at the state and municipal levels. States that have implemented MCL's or enforceable regulations are then faced with an important challenge: how to remove PFAS at the municipal level and how to pay for it. When a regulation is implemented, a municipality is required to do whatever it takes to make sure it's in compliance with the law to avoid fines and violations. EPA has identified a handful of technologies that can help reduce PFAS in drinking water. Unfortunately these technologies are often expensive and require regular maintenance to ensure they're working as intended. 
For example, the Sweeney Water Treatment Plant in the Cape Fear region of North Carolina is one of the few water utilities to purchase PFAS-removal technology. The filters cost $46 million upfront, with annual operating costs of $2.9 million. It's important to mention that the PFAS-removal technology was only purchased for one of the three water treatment plants for the Cape Fear Public Utility Authority. PFAS have still been detected in the other two water treatment plants. Removing PFAS at the municipal level is expensive and requires regular maintenance. 
Our Take: Not All Water Filters Remove PFAS
If you live in one of the states without state or local water quality standards for PFAS, it's important to understand that these harmful chemicals could be present in your tap water. We advise these residents to use a filter that's been NSF Certified for removal of PFOA and PFOS. Duke University completed a study in 2020 that tested various filtration brands and their ability to remove PFAS from drinking water. The results found that popular brands including Brita and Pur did not do a good job of removing PFAS compounds. Refrigerator filters tested by the Duke research team, including; Samsung, Whirlpool, and GE, also failed to remove PFAS. The full results of this study can be found here. Hydroviv filters are both NSF certified and third-party tested to remove PFAS chemicals. To request our full testing and removal data, please email hello@hydroviv.com. 
Other Articles You Might be Interested In:  
We're Finding PFAS Everywhere
How did Hydroviv Perform in a Duke/NC State PFAS Removal Study?
Is PFAS Toxic to the Immune System?
Links to State PFAS Information:
Alaska
,
California
,
Colorado
,
Connecticut
,
Delaware
,
Hawaii
, 
Maine
,
Minnesota
,
Massachusetts
,
Michigan
,
New Hampshire
,
New Jersey
,
New Mexico
,
New York
,
North Carolina,
Ohio
,
Oregon
, 
Pennsylvania
,
Rhode Island
, 
Vermont
,
Washington
, 
Wisconsin