New York Passes Bill To Reduce Lead In School Drinking Water
New York Passes Bill To Reduce Lead In School Drinking Water
RSS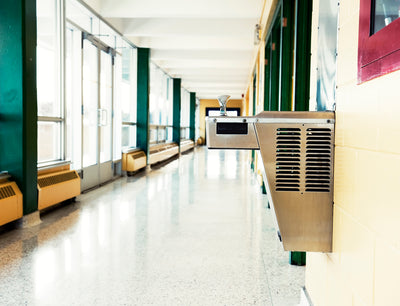 ‌Christina Liu | Hydroviv Science Team
The New York State Legislature recently passed a bill to help make drinking water in schools safer. National Resources Defense Council (NRDC) reported that this bill will lower the Action Level of lead detected at school drinking water taps from the current EPA Action Level of 15 parts per billion (ppb) down to 5 ppb, which is the limit for bottled water set by the Food and Drug Administration (FDA). The EPA, CDC and the American Academy of Pediatrics (AAP) all recognize that there is no safe level of lead for children. 
Groundbreaking Lead Legislation for Schools in New York State
New York enacted a program in 2016 to test drinking water in every public school in the state. They discovered 82% of the schools reported at least one drinking water tap testing above the EPA Action Level of 15 ppb. Lead enters tap water in schools and homes through old lead service pipes and plumbing containing lead. 
How Does the New Bill Improve the Current Program?
The
new legislation
 improves the existing program by including the following additional measures:  
Test schools every three years (an increase from every five years currently).
Provide transparency by requiring the test results to be posted publicly.
Remove the waiver for testing and remediation for "lead-free" schools.
Require schools to provide alternative sources of safe, potable water to students at no cost.  
Strengthen the State's Clean Water Infrastructure Act by providing funding for remediation.  
Why is Lead a Major Concern in New York Schools? 
Lead contamination in tap water is different from most pollutants, as lead comes from plumbing, not the water supply. For example, some buildings (such as schools), especially in older neighborhoods, have service pipes containing lead that connect water mains to the plumbing. Plumbing installed before 1986 also often uses leaded solder to join copper pipes. This problem is compounded when water sits stagnant for several hours before use (such as the time between school days) because lead concentrations rise as corrosive water sits in the pipes. This is especially prevalent in the older infrastructure (pipes, plumbing, service lines) found in New York City itself, which poses the risk of lead contamination once the water reaches the city's distribution system. 
WNYC News summarized the initial lead testing results from 2016 and provided guidance to concerned NYC parents. In a 2019 article, NRDC analyzed lead tests conducted in 2018 and discovered over 80% of the school buildings still had at least one tap exceeding the 15 ppb Action Level, with many of the taps testing at alarmingly high levels of lead. The highest lead level tested was at 13,100 ppb, with more than 590 taps measuring between 100 ppb and 13,100 ppb.  
What Can I Do About Lead In Schools?    
While the recent legislation is definitely a step in the right direction, improvements to the water supply won't happen overnight. Here are 4 things you can do in the meantime to help keep your school children safe from lead-contaminated water in the school buildings:
Check your Filters. If you are packing water for your child, please check to make sure you are using a filter that is certified for lead removal.

Get informed. Ask school administrators whether the drinking water in your child's school has been tested for lead and ask to see the results. Information on lead in drinking water, testing methods, and steps you can take to minimize exposure is available from the Safe Drinking Water Hotline or on the EPA's page: Basic Information about Lead in Drinking Water. 

Be an Advocate. Encourage your school or district to install water dispensers or drinking fountains that use filters certified for lead removal.  

Spread the word. Talk to your child's pediatrician, school nurse, teacher, and your school's parent-teacher association about lead in the drinking water in schools. Inform them that the American Academy of Pediatrics recommends 1 ppb to be a safe level of lead in drinking water.
Other Articles We Think You Might Enjoy:
The Noah System:  Lead-Free Drinking Water for America's Schools
The American Jobs Plan to Allocate $111 Billion To Water Infrastructure Improvements
Why Are So Many Schools Testing Positive For Lead In Drinking Water?