Why RO Water Filters Probably Don't Make Sense For You
Why RO Water Filters Probably Don't Make Sense For You
RSS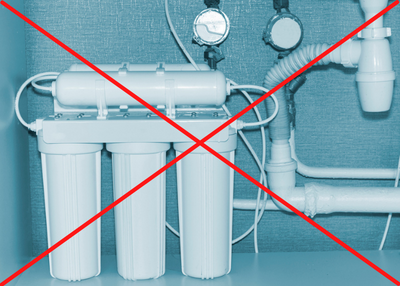 Editor's Note: With lead, chromium 6, PFAS, and GenX contamination gaining a lot of press, a lot of people have been rushing to buy reverse osmosis (RO) systems to filter their water. While some RO systems are a good option for some people, we hear from a lot of people who weren't prepared for the downsides, and end up replacing it with a Hydroviv under sink water filter. This article lists the most common things that we hear from people who regret buying a reverse osmosis water filter.
Not All Reverse Osmosis Water Are Effective
In recent years, reverse osmosis water filters have gained a great deal of popularity among homeowners because there's a feeling that they "filter everything." Unfortunately, this is simply not true, but this belief has created a "race to the bottom" for water filter companies to create the cheapest system that uses reverse osmosis, so they can cash in on Amazon. The term "reverse osmosis" describes the technology used, and does not tell you anything about performance. The truth is... some are rated to remove toxic things like lead/chromium 6
(like this one
), some aren't rated to remove much of anything (
this one is only rated to remove chlorine taste and TDS/ppm
).
If You Don't Change The Prefilters Religiously, You Will Ruin The Reverse Osmosis Membrane
The prefilters on an RO system actually protect the membrane in the reverse osmosis stage. If a reverse osmosis user doesn't change these prefilters in time, chlorine "breaks through" and flows into the RO membrane. Unfortunately, most RO membranes are irreversibly damaged by even low levels of free chlorine, and the entire reverse osmosis module will need to be replaced. Also, much to the surprise of users, there isn't really an easy way to know if this degradation has taken place. We've heard from hundreds of reverse osmosis users in DC, Pittsburgh, and NYC who were shocked to find high levels of lead coming out of their RO when they did a lead test. It turned out that they changed out their prefilters too late, which ruined their reverse osmosis membrane without any kind of notification.
You'll Need To Drill Your Counter Top And Drain Pipe During Installation
Most people who buy a reverse osmosis system assume that they'll be able to handle the installation. Many quickly change their mind after learning that they'll need to drill a hole in their home's drain pipe (for the filtration system's waste line) and another hole in their counter top or sink (for a dedicated faucet). Unless you are confident in your abilities, be sure to budget a couple hundred dollars for professional installation. You certainly don't want to ruin a granite counter top or crack a drain pipe. If you have a stone counter top and you're having a plumber install a system for you, make sure their insurance will cover the event that they crack the stone. Contrast this with a Hydroviv system, which connects to to your existing faucet in 15 minutes, no drilling or plumbing experience needed.
Your Under Sink Storage Will Disappear
If you have a garbage disposal, you'll want to take measurements to make sure that the filtration system will fit under the sink. In addition to the manifold that holds the prefilters and reverse osmosis components, you'll need to allow space for the storage tank, which is larger than a basketball. There's a reason why most pictures of installed reverse osmosis systems do not show a garbage disposal. For some people, this isn't a big deal, but for others (particularly in cities where space is limited), it's a major problem.
Flow Rates Are Slower Than Expected
One of the most common problems that we hear from people who purchase reverse osmosis systems is that the water pressure is very bad and they end up not using the filtered water, which defeats the entire purpose of having a filtration system.
Your Water Usage Will Go Up
Reverse osmosis systems work by using pressure to force water through a membrane, which leaves behind impurities in a solution that many referred to as brine or backwash. This solution leaves flows through a waste line that connects to your home's drain pipe, so the removed contaminants go right down the drain. People who draw their water from private wells are particularly troubled by this. Most consumer-grade systems generate 3-15 gallons of waste water per gallon of produced purified water.
In Summary:
In a recent PFAS study by Duke University and NC State, Hydroviv water filters out-performed major brands such as Brita, Samsung, Whirlpool, and Berkey. Our Undersink and Refrigerator filters had comparable PFAS removal as expensive reverse osmosis water filters. The bottom line is that if you're looking at reverse osmosis water filters, you want to make sure that you get one that works, and works for your family. We're obviously biased (as our products don't use reverse osmosis technology), but if you are determined on getting a reverse osmosis system, the only competitor that we recommend is APEC. We've tested this system (it works), and they also engineer and assemble their systems in the United States (like us). It's also important to point out that Hydroviv Undersink water filter is NSF certified. You can find a link to our listing here.
If you have any questions about the advantages and disadvantages of a reverse osmosis system and whether or not a reverse osmosis system is the best way to filter your water, we encourage you to take advantage of Hydroviv's "Help No Matter What" approach to technical support. We promise to help you select an effective water filter system, even if it's not one that we sell. Reach out through live chat or by emailing us ([email protected]).
Other Articles We Think You'll Enjoy:
How To Filter Chromium 6 From Drinking Water
5 Things To Know About Chromium 6 In Drinking Water
Why TDS Meters Don't Tell You Anything About Lead
Lead Contamination In Pittsburgh's Tap Water