5 Things You Need To Know About Bottled Water
5 Things You Need To Know About Bottled Water
RSS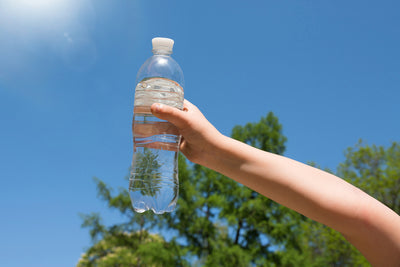 Analies Dyjak, M.A | Head of Policy and Perspectives   
Whenever severe water contamination impacts a community, people (and media outlets) tend to jump to bottled water as the only water contamination solution. The bottled water industry has managed to convince vulnerable consumers that their product is inherently safer than what's coming out of their taps. Oftentimes, this isn't the case. So why is bottled water bad? The reality is that bottled water is associated with a host of ethical, environmental and regulatory problems. Drinking bottled water is not a long-term solution to water contamination, and we should critically examine its role as water quality crises continue to pop up across the country. Here are our main problems with the bottled water industry to give you a better idea of why bottled water is bad.

1)  Bottled Water Companies Use The Same Source As Tap Water
According to the FDA, bottled water companies are permitted to package and sell water from municipal taps, artesian wells, mineral water, natural springs, and drilled wells. Surprisingly enough, they aren't required to disclose the source water itself. If you're looking for transparency, municipal systems are required to publish an annual Consumer Confidence Report (CCR) that discloses characteristics about the source water, treatment techniques, and other distribution information. The bottled water industry also frequently packages and distributes groundwater from dug wells. Groundwater can often be more susceptible to pollution than surface water because it's not regulated by the federal government. Groundwater acts as a catchment for surface water runoff and agricultural pollution, not to mention its increased risk of arsenic contamination.
2)  Bottled Water and Tap Water Have Almost Identical Standards
People are often surprised to learn that there's virtually no difference between the regulations for bottled water and tap water. The Environmental Protection Agency regulates tap water and the Food and Drug Administration regulates bottled water. The allowable concentrations of contaminants are identical for both, with the exception of lead. The standard for lead in bottled water is 5 parts per billion, as opposed to 15 parts per billion in tap water. This is because during bottling production, water should never come in contact with older lead service pipes the same way municipal water does. Arsenic can be present in groundwater as a result of natural weathering of bedrock. Exposure to arsenic in drinking water can result in cancers in various organs, including skin, bladder, lung, kidney, liver, and prostate. Non-cancerous health effects include neurological damage, such as peripheral neuropathy.
3)  Impacts On The Environment
It's well-documented that single-use plastic water bottles wreak havoc on the environment. Plastics are made from petroleum, which is a fossil fuel and a non-renewable resource. Companies often tout their commitment to reducing plastic consumption by weight, but this has no bearing on the volume at which it's produced. You may be familiar with "Trash Island," in the Northern Pacific Ocean. This phenomenon is the result of decades of poor waste management and excessive production of various types of plastic. According to a 2016 study by the Ellen Macarthur Foundation, the ocean will contain more plastic by weight than fish by the year 2050. Polyethylene Terephthalate (PET) is the main ingredient in plastic water bottles. PET takes over 400 years to decompose in the environment and its constituents can often take longer to degrade. Chemicals like Bisphenol A (BPA) have since been phased out of plastic production, but are still very much present in the environment and will continue to be released as older plastics degrade.
4)  False Advertising
Marketing schemes deceive consumers into believing that companies use pristine source water. The packaging uses carefully curated images of mountain-top creeks and streams to suggest pure, untainted products. The reality is bottled water hardly ever comes from the sources depicted on the label.
5)  Ethical Dilemma
Nestle, a company with a long track record of unscrupulous business practices, owns deep aquifers throughout California, a state which has been experiencing drought-like conditions for several decades. The expensive equipment purchased by Nestle allows the company to extract water in a way that tribes and municipalities cannot afford to do. Similar companies have been known to use their purchasing power to acquire land, pushing tribes and municipalities out of the conversation. Problems arise when drought-stricken or contaminated communities are unable to afford the same resources as bottled water companies.
Our Take:
While bottled water offers some measure of immediate relief to a severe drinking water crisis, it is in no way a long-term water contamination solution. Companies often sell the same water that's feeding municipal systems. Not to mention, EPA and FDA have almost identical regulations for both tap and bottled water. There's also an inherent cost associated with bottled water, which varies depending on the brand. Finally, a huge part of why bottled water is bad is that scientific data confirms the importance of reducing plastic pollution on a global scale. Municipal providers offer greater transparency and are required to disclose information about the source water.
Other Articles We Think You Might Enjoy:
Microplastics In Water: What You Need To Know
Endocrine Disruptors In Drinking Water
Water Conservation and Water Quality In The Sports Industry