A Deep Dive Into the CNN Report on America's Drinking Water
A Deep Dive Into the CNN Report on America's Drinking Water
RSS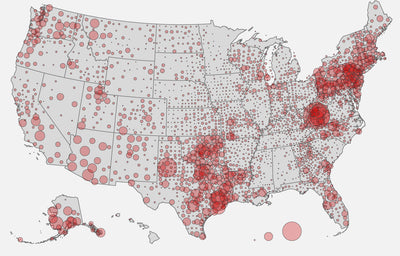 *Map courtesy of the Natural Resources Defense Council*
Analies Dyjak  |  Policy Nerd
Our inbox has been inundated with questions regarding the NRDC drinking water report that CNN retreated yesterday. We wanted to add some context and remind readers that these developments are not new. The scope of the drinking water problem in this country is much broader than the 90 federally regulated contaminants highlighted in the report. 
With myriad water quality crises popping up all over the country this past year, the topic of drinking water quality has once again commanded national media attention. CNN recently published an article underlining a 2017 report by the Natural Resources Defense Council.
Major Takeaways from the CNN Water Report:
It's not easy to violate a drinking water standard. In fact, drinking water regulations are set so high in the United States that it's surprisingly difficult for a municipality to surpass a federal threshold. The consensus in the scientific and toxicological community is that federal standards should be reduced across the board.

Why is the conversation being limited to regulated contaminants? For a bit of perspective, EPA regulates 90 drinking water contaminants that municipalities must comply with. These regulated contaminants include lead, arsenic, disinfection byproducts, and others. There are thousands, if not hundreds of thousands of potentially dangerous unregulated contaminants. Despite this growing problem, the CNN report focused entirely on the 90 federally regulated contaminants, which doesn't even scratch the surface of America's drinking water crisis. 

The article is vague about what constitutes a "violation." Municipalities can receive a violation from the state, or primacy agency for different reasons. Municipalities can be in violation if they are "out of compliance" or "in exceedance" of a drinking water standard. However, municipalities that fail to report data or test for a contaminant may also receive a violation. There's very little enforcement or repercussions imposed on municipalities that have violations, and often community members are left in the dark. 
How Can We Determine The Actual Scope of Drinking Water Contamination In The United States?
Figuring out the scope of this problem is extremely difficult, due to the slow-moving regulatory process and missing data. EPA estimates it would cost $743 billion to mitigate only the regulated contaminants in the U.S., meaning it would do nothing to address unregulated contaminants like Chromium 6, PFAS, and 1,4-Dioxane. Communities like Madison, Wisconsin could theoretically receive a gold star when looking at their compliance for regulated contaminants. Madison has low levels or lead, disinfection byproducts, and arsenic - all well within EPA standards. People are often surprised to find out that Madison has screamingly high levels of Chromium 6, which is also known as the "Erin Brockovich" chemical (the movie came out almost 20 years ago, and the contaminant is still unregulated). According to the most recent report, the average concentration of Chromium 6 in Madison is 1400 parts per trillion. This is 70 times higher than the concentration determined to have a negligible impact on cancer risk. 
America's drinking water is more widespread than you think, and the scope of the problem goes well beyond the 90 contaminants addressed in the article. We must look beyond annual Consumer Confidence Reports to unveil the truth about our drinking water contamination.
Other Article We Think You Might Enjoy:
Why Are So Many Schools Testing Positive For Lead In Drinking Water?
GenX Is Linked To Cancer
How Does Fracking Pollute Drinking Water?