How Did Hydroviv Perform in a Duke PFAS Removal Study?
How Did Hydroviv Perform in a Duke PFAS Removal Study?
RSS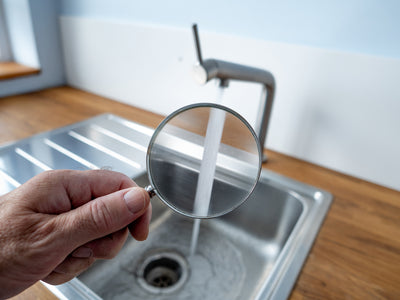 Analies Dyjak, M.A. | Eric Roy, Ph.D.
Duke University and NC State researchers recently published a study that examined the effectiveness of residential water filters against PFAS. We believe that this study is extremely important because PFAS are toxic and unregulated, which means that individuals shoulder the burden to remove them from drinking water. While we were excited to be part of this study, Hydroviv is NOT endorsed in any way by Duke University, NC State, or any of the researchers, nor did we pay any money to be part of the study.
How Effective Were Hydroviv Water Filters in Removing PFAS?
Five Hydroviv filters were tested as part of this study, four of which use currently-available active media blends. For these core formulations, the researchers tested two Under Sink Filters that connect directly to the faucet and two Refrigerator Line filters that connect to the water line that feeds the refrigerator. In all four cases, any water with PFAS present in the unfiltered samples had undetectable (below the Method Detection Limit (<MDL)) levels of PFAS after the water was filtered through a Hydroviv filter (blue text in the table below). The results here are consistent with an earlier test report that looked at PFAS removal rates. We assembled the relevant data from the more recent study for our filters in the table below.
How Did Other Common Whole House, Pitcher, and Refrigerator Filters Perform?
Unfortunately, some of the most popular pitcher, refrigerator, and whole house filters did not perform well. Alarmingly, some systems by Berkey, Aquasana, Samsung, GE, and Brita, actually had HIGHER PFAS LEVELS in the filtered water than the unfiltered sample, because of over-saturation and low quality filtration media. The red text in the table below shows detectable PFAS levels in water filtered by other major brands.
How Did Reverse Osmosis Water Filters Perform?
This study evaluated a number of quality water filters that use reverse osmosis (RO) technology. In each of the RO systems that were tested, any water with PFAS present in the unfiltered sample also had undetectable levels in the filtrate.
If You're Considering Purchasing a Water Filter That Was Not Part of this Study
The advice we give people looking for a water filter that removes PFAS is to ask the manufacturer for 3rd party test data for PFAS removal (not just PFOA/PFOS) at the beginning and end of the filter's advertised lifetime. Unfortunately, there are a lot of water filter brands (including filters that performed horribly in this study) that show test data that were conducted when the filter cartridges were fresh, and do not show PFAS test data for the end of the advertised filter life (which they base off chlorine removal). Fortunately, Hydroviv's Under Sink and Refrigerator Line Filters were tested at month 1 and month 6 as part of this study, as well as the filters that were tested as part of the NC State/CFPUA study several years ago.