Why Home Water Filters Are Better For The Environment:
Why Home Water Filters Are Better For The Environment:
RSS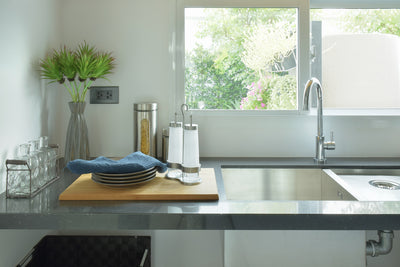 Christina Liu | Science Team Water Nerd

Did you know THIS about bottled water?
Here's how to help:
USE A REUSABLE WATER BOTTLE AND FILL IT UP WITH FILTERED TAP WATER
Here's why:
What about the quality of tap water? Is it even better?
Bottled water companies often use the same source as tap water. Ac

cording to the FDA,

bottled water companies are permitted to package and sell water from

municipal taps,

artesian wells, mineral water, natural springs, and drilled wells

. Yes, you read that correctly – some bottled water is simply bottled tap water.

The regulations for bottled water and tap water are almost identical. The

Environmental Protection Agency

regulates tap water and the

Food and Drug Administration

regulates bottled water, and the allowable concentrations of contaminants are identical for both, with the exception of

lead

. (The standard for lead in bottled water is 5 parts per billion, as opposed to 15 parts per billion in tap water. This is because during bottling production, water should never come in contact with older lead service pipes the same way municipal water does). However, the EPA, CDC, American Academy of Pediatrics and other health organizations have all acknowledged that there is

no safe level of lead for children

.
Other Articles We Think You Might Enjoy:
Popular Bottled Water Brands That Contain PFAS "Forever Chemicals"
Endocrine Disruptors In Drinking Water
Water Conservation and Water Quality In The Sports Industry