Why You Should Change Your Hydroviv Water Filter Cartridge Every 6 Months:
Why You Should Change Your Hydroviv Water Filter Cartridge Every 6 Months:
RSS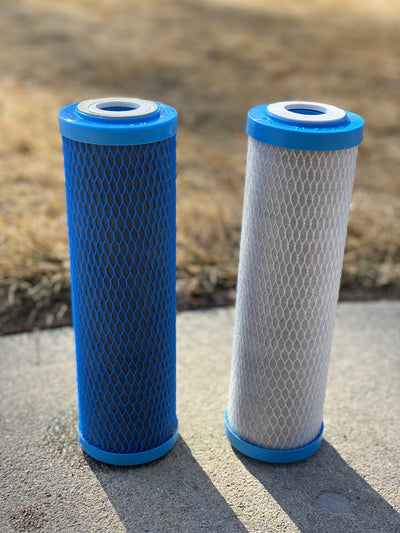 Eric Roy, Ph.D. | Hydroviv's Scientific Founder   
Much like changing a car's oil is necessary for a car to operate, replacing the cartridge in your Hydroviv water filter is necessary to ensure that your filter is producing safe drinking water for you and your family. This article discusses the most frequently asked questions that we get about cartridge replacement.
Why Do I Have To Change My Water Filter Cartridge?
The performance of a water filter cartridge against dissolved and particulate contaminants is dictated by two main factors: #1. pore structure and #2. active media blend. A water filter must be changed regularly because as water flows through the filter over time, the pore structure can become clogged with particulate matter and active media becomes saturated with chemicals. When the capacity of either is exceeded, the filter no longer performs as designed.
How Do I Know When It's Time To Change My Water Filter Cartridge?
While it's easy to tell if particulate matter has filled up the filter's pores (flow rate slows down), it's not as straightforward to tell if a filter has been saturated by dissolved chemicals without laboratory testing. This is where 3rd party testing & certifications come in. For example, as part of Hydroviv's NSF Certification Program, our drinking water cartridges were shown to filter chemicals like PFAS, lead, and VOCs for over 720 gallons before performance tapered, which translates to a 6 month replacement interval for over 95% of Hydroviv customers.
What Happens When You Don't Change Your Filters' Cartridge? 
When a filter is used beyond the capacity, filtration performance drops and can reach a point where the filter can release contaminants into the water, a process known as "avalanching." This is why we tell people that if they decide not to replace the cartridge, they are better off disconnecting their filtration system.
Are There Other Factors That Create Exceptions to The 6 Month Rule?
While over 95% of Hydroviv users are best served by a 6 month replacement interval, we do have users that use a longer or shorter changeout interval. For example, a filter used by a large family that drinks a lot of water or has a high amount of particulate matter could require more frequent cartridge replacements. Conversely, an occasionally-used filter can probably be changed out less frequently, though we don't ever recommend letting any filter be used for over 9 months for hygiene reasons. 
This video shows how easy it is to replace the cartridge in your Hydroviv filter. 
Other Articles We Think You Might Enjoy:
Here's why you shouldn't drink or cook with water from the hot side of your faucet:
Stop using TDS/ppm meters to test the quality of your water
Why home water filters are better for the environment: