Health Effects Caused by Exposure to PFAS Chemicals
Health Effects Caused by Exposure to PFAS Chemicals
RSS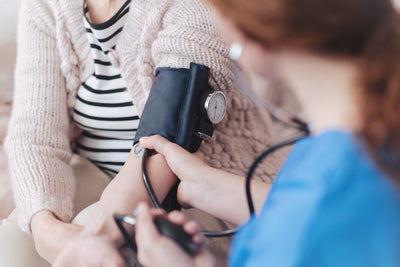 Christina Liu | Hydroviv Science Team   
**Updated 11/30/22 to include latest data on health effects
Last Week Tonight Television Host John Oliver did a recent segment on his show about PFAS contamination, prompting a new wave of interest. A study by the Environmental Working Group estimates that more than 200 Million Americans have PFAS in their drinking water and a 2019 study by the CDC indicated that 97% of Americans have PFAS in their blood. This article highlight the known health effects of PFAS chemicals in humans.
Male Infertility 
Scientists at the University of Cincinnati analyzed studies that focused on a particular type of PFAS chemical (PFOS) and how exposure can impact male reproductive health. The researchers observed that PFAS are endocrine disruptors and can harm the reproductive system. More specifically, they observed that studies conducted in vitro and in rats showed decreased testosterone levels when exposed to PFAS. 
Miscarriage
A Yale University PFAS study evaluated prenatal exposure to seven different PFAS variations, and the risk of miscarriage. Researchers tested the more common types of PFAS typically found in drinking water; PFOS, PFOA, PFHxS, PFHpS, PFNA, PFDA, and PFOSA. The study determined that the cohort of women with higher amounts of PFAS in their maternal plasma had an 80% to 120% increased risk of miscarriage than those with lower amounts of PFAS. The researchers listed drinking water, food packaging, indoor air, and "other" environmental exposures as the primary routes of ingestion/inhalation into the human body.
Preeclampsia
Preeclampsia is a dangerous condition for pregnant women - causing hypertension in the mother, elevated protein in the urine, and preterm labor. Scientists in Sweden studied a cohort of over 1700 pregnant women and observed the incidence of preeclampsia. Even after controlling their observations for other preexisting conditions as potential risk factors in pregnancy, they observed that there was a significant association between preeclampsia and serum concentrations of PFOA, PFOS, or PFNA. Even after adjusting for parity, age, body weight and smoke exposure, they still observed significant associations between occurrences of preeclampsia and serum levels of PFOS and PFNA. 
Lower Birth Weight
Scientists in Sweden followed a cohort of 1533 pregnant mothers, and measured the levels of 8 different types of PFAS  in their blood around the 10th week of pregnancy. 5 different types of PFAS (PFOS, PFOS, PFNA, PFDA, and PFUnDA) were linked to lower birth weights, lower birth weights for gestational age, and also babies that were considered small for gestational age (SGA).  This occurred more frequently in baby girls than boys. In a just-published study, prenatal exposure to PFOA in a predominantly Hispanic cohort of mothers was also associated with lower birthweight in infants.
Increased Risk of Liver, Kidney and Testicular Cancer
In a just-released controlled study from the University of Southern California and the Icahn School of Medicine at Mt. Sinai, scientists measured PFAS levels from the blood samples of patients. Specifically, they found that PFOS levels were associated with a 4.5 times higher risk of developing liver cancer due to alterations in the metabolic pathways involved. 
Researchers at the National Cancer Institute analyzed blood levels of 8 different types of PFAS compounds from 324 Renal Cell Carcinoma (RCC; kidney cancer) patients. After controlling for age, demographics and other factors, they observed a statistically significant association between serum PFOA concentrations. They also observed that the association between PFOA and Renal Cell Carcinoma remained after adjusting for other PFAS varieties. The researchers indicated that their findings add substantially to the weight of evidence that PFOA is a renal carcinogen and may have important public health implications for the many individuals exposed to PFAS contaminants worldwide.
Professors at University of California, Irvine, conducted a comprehensive review of peer reviewed studies relating PFOA to incidences of kidney and testicular cancer. They concluded that, in spite of the small sample size, they observed an average relative increase in cancer risk per 10 ng/mL increase in serum PFOA of 16% for kidney cancer and 3% for testicular cancer.
Liver damage
Research from the C8 Health Study, followed over 69,000 patients from 6 water districts in two states experiencing water contamination from a DuPont Chemical Facility in Parkersburg, West Virginia. The researchers randomly selected 200 participants from the C8 Health Study, and measured serum levels of 4 PFAS compounds: PFOS, PFOA, PFNA, and PFHxs. They also measured specific biomarkers that indicate liver damage (hepatocyte apoptosis) as well as cytokine markers (indicating inflammation due to immune response). The data from their study support previous findings that suggest PFAS may cause liver injury while reducing some aspects of the immune response.

In a just-released study in the journal Environmental Health Perspectives, scientists did a comprehensive and systematic literature review of over 100 peer-reviewed studies in both rodents and humans involving PFAS and liver function. They used the serum enzyme alanine aminotransferase (ALT) as a marker to indicate liver injury. They discovered that higher ALT levels, which can indicate Non-Alcoholic Fatty Liver Disease were associated with exposure to PFOA, PFOS, and PFNA. 
Increased Cholesterol Levels 
1,945 adults from Ronneby, Sweden were included in a PFAS study just last year.  Ronneby is an area with PFAS contaminated drinking water due to heavy use of aqueous firefighting foam. The scientists measured serum lipid levels and compared them against serum PFAS levels as well as controlling for demographic information such as age, gender, and BMI, and also collected comparable data in a control area (drinking water not contaminated with PFAS). Specifically, the scientists measured serum levels of PFOS, PFHxS, and PFOA, and observed that drinking water contamination caused high serum levels of PFAS. They also observed that high total cholesterol levels and LDL (low-density lipoprotein) levels correlated with high serum PFAS levels. In fact, they observed a 7–9% increase of total cholesterol and LDL in the PFAS contaminated area compared to the control area.
Thyroid Disease
Scientists in Korea evaluated samples from 3,070 test subjects, whose blood samples were tested for 12 different types of PFAS and also against levels of the thyroid hormones TSH, T3, and T4. They observed that higher serum concentrations of PFAS was associated with abnormal thyroid hormone levels. Specifically, PFOA was associated with a decrease in total T4 and FT4 levels. PFOS was associated with a decrease in total T4 level and PFNA and PFDeA were associated with decreases in TSH levels.  
Increased Risk of Asthma
Scientists in Norway studied adolescents and These subjects completed questionnaires about their health conditions, and then had their blood tested to measure serum levels of 18 different PFAS chemicals. There was a statistically significant association between several PFAS types and the occurrence of asthma, and also between PFOS and nickel allergy. However, allergic rhinitis, self-reported pollen allergy, food allergy and atopic eczema were not associated with PFAS concentrations.
Altered Vitamin D Levels, Increased Risk of Osteoporosis
Scientists at the Johns Hopkins School of Public Health tested serum samples from 7,040 individuals 12 years and older for Vitamin D and PFOA, PFOS, PFHxS, and PFNA. Higher serum PFOS concentrations correlated with lower vitamin D biomarker concentrations, and the association was stronger among non-Hispanic white individuals. Higher serum PFOS concentrations were also associated with increased risk of being vitamin D deficient. In contrast, PFHxS was associated with higher vitamin D levels and lower odds of being vitamin D deficient.
Scientists in Sweden analyzed the data from over 60,000 people looking at the incidence of major bone fractures and compared these patients to PFAS exposure levels based on their water supplies. Their studies increased the evidence that PFAS exposure is harmful to bone density and may increase the incidence of osteoporosis. 
Increased Risk of Diabetes 

In a new study, scientists did a comprehensive review of studies involving PFAS and diabetes in both adults and children. They concluded that there was evidence that PFAS exposure is associated with higher concentrations of low density lipoprotein (LDL), high density lipoprotein (HDL), and total cholesterol (TC), but not triglycerides (TG). Specifically, they saw a strong association between PFOA and elevated levels of LDL and TC, PFOS and TC, and PFNA and LDL. 

A study published by the University of Michigan School of Public Health followed over 1200 women between 2000 - 2017 and controlled for demographic and health factors. None were diabetic when they entered the study. Serum PFAS levels were measured and compared to factors indicating diabetes on subsequent visits. After adjustment for race/ethnicity, site, education, smoking status, alcohol consumption, total energy intake, physical activity, menopausal status and BMI, the results indicate that higher PFAS levels in the blood are associated with a higher risk of developing diabetes. 


Increased Risk of Hypertension in Women
The University of Michigan School of Public Health recently published a study that followed 1,058 "midlife women" initially free of hypertension from the multiracial and multiethnic SWAN (Study of Women's Health Across the Nation) with annual follow-up visits between 1999 and 2017. 
470 of the original 1,058 women developed high blood pressure.

Women in the highest one-third concentrations of all seven PFAS examined had a 71% increased risk of developing high blood pressure.

Women with higher concentrations of specific PFAS chemicals had a higher risk of developing high blood pressure: women with the highest one-third concentrations of PFOS, PFOA, and EtFOSAA, (a PFOS precursor), had 42%, 47% and 42% higher risks, respectively, of developing high blood pressure, compared to women with the lowest one-third concentrations of these same PFAS variations.

Combined exposure to multiple PFAS had a stronger effect on blood pressure.
Decreased Vaccine Response and Immunotoxicity
A Harvard study in 2019 researched whether PFAS chemicals correlated to COVID-19 outcomes. The researchers studied 323 COVID patients, and tested blood samples for 5 different types of PFAS compounds. 
They observed that:
PFBA accumulates in the lungs.
Patients with higher blood levels of PFBA (perfluorobutanoic acid) were associated with more severe COVID-19 infections. 
Patients with high PFBA levels in the blood were significantly more likely to be hospitalized, enter intensive care, and die from COVID-19 than people with low PFBA levels. 
What Can I Do?
There is currently no way to effectively or efficiently clear PFAS from the human body. Animal studies suggest that PFOA is mostly excreted in the urine, but scientists estimate that this may account for only 20% of the PFAS in humans. In addition, they estimate that half-life of PFOA elimination in humans (the amount of time for the person to have half as much PFOA as now--assuming no further exposure), is roughly estimated to be 3.5 years for PFOA and about 4.8 years for PFOS.

Scientists agree that the best thing to do to mitigate PFAS in the body is to minimize exposure. Using filters for drinking water that significantly reduces PFAS can go a long way to reducing an individual's overall PFAS exposure.  
Other Articles We Think You Might Enjoy:
What Are PFAS or 'Forever Chemicals'?
Does My Home State Regulate PFAS Chemicals in Drinking Water?
PFAS:  Everywhere We Look, We Find It