PFAS Water Filters for New Hampshire
PFAS Water Filters for New Hampshire
RSS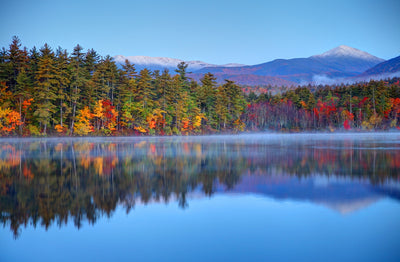 Christina Liu | Hydroviv Science Team   
Governor Chris Sununu recently signed 3 bills to increase water protections in New Hampshire. Most significantly, HB 271 specifically addresses PFAS contamination in drinking water by establishing maximum contaminant levels (MCL's) for four different types of PFAS. This article addresses what PFAS compounds are, the "safe" levels in New Hampshire drinking water, and water filtration brands that actually remove them. 
PFAS in New Hampshire
New Hampshire is the latest in several states that are establishing drinking water standards for PFAS chemicals. Governor Sununu signed House Bill 271, which establishes maximum contaminant levels (MCL) for the following:
PFOA (Perfluorooctanoic Acid): 12 parts per trillion (ppt) 

PFOS (Perfluorooctanesulfonic Acid): 15 ppt  

PFHxS (Perfluorohexahesulfonic Acid): 18 ppt 

PFNA (Perfluorononanoic Acid): 11 ppt 
These contaminants have been detected in drinking water systems across the country, and have been detected in the drinking water of over 200 million Americans, but still remain unregulated by the U.S. Environmental Protection Agency. In response to public concerns about PFAS contamination affecting water quality, in 2018 a bill was passed requiring the New Hampshire Department of Environment Services to conduct ongoing testing for PFAS at sites throughout the state. Their testing results are reported twice a year and were most recently made available in June 2021. 
What Are Per and Polyfluoroalkyl Substances?
Per and Polyfluoroalkyl Substances (PFAS) are a category of harmful compounds that can be found in drinking water sources across the country. PFAS can take hundreds of years to degrade in the environment which is why you may see them referred to as 'forever chemicals.' PFAS are not currently regulated at the federal level, but some states have created regulations or monitoring criteria, including New York State. PFAS are known to increase the risk of cancer, increase cholesterol, increase the risk of miscarriage by 80-120%, and several other negative health outcomes. According to the National Institute of Health, over 4,700 different PFAS variations have been used in some type of manufacturing since the 1950's.
Is 11 ppt Safe?
There's a bit of uncertainty around the "safe level" of exposure to PFAS compounds. There are only a handful of studies that assess the potential health impacts, and most agree that more research is necessary to make a determination. In 2016, EPA set a non-enforceable Health Advisory Level of 70 parts per trillion for combined PFOA and PFOS. More recent data suggests that this level is far too high to provide meaningful protection against a range of negative health impacts. A recent study also found that a "safe level" or PFAS could be as low as 0.1 parts per trillion. Although the New Hampshire PFAS standard is on the lower end of state limits, our team would rather see even less PFAS allowed in municipal tap water. 
Not All Water Filters Remove PFAS
If you live in New Hampshire and you're looking for a solution, it's important to understand that not all water filters are able to remove PFAS chemicals. Duke University completed a study in 2020 that tested various filtration brands and their ability to remove PFAS from drinking water. The results found that popular brands including Brita and Pur did not do a good job of removing PFAS compounds. Refrigerator filters tested by the Duke research team, including; Samsung, Whirlpool, and GE, also failed to remove PFAS. The full results of this study can be found here. Hydroviv filters are both NSF certified and third-party tested to remove PFAS chemicals. To request our full testing and removal data, please email hello@hydroviv.com. 
Other Articles We Think You Might Enjoy:
Yale: PFAS Increase The Risk of Miscarriage by 80-120%
Is PFAS Exposure Toxic to the Immune System?
Why Do Military Bases Have High Levels of PFAS Chemicals?