Michigan's Fight Against PFAS
Michigan's Fight Against PFAS
RSS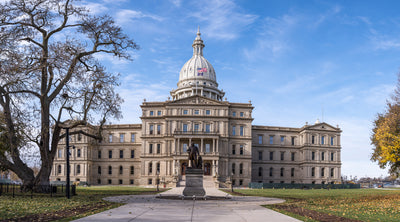 Analies Dyjak, M.A.  |  Policy Nerd
The newest threat to Michigan drinking water comes just five years after lead contamination crippled the the community of Flint. Despite nation-wide coverage and support, communities in Michigan are still dealing with contaminated drinking water. A new category of emerging contaminants called Per and Polyfluoroalkyl Substances (PFAS) is now threatening a majority of the state, as public officials try to gain back trust.
Where Are PFAS Found In Michigan?
The Michigan Department of Environment, Great Lakes, and Energy (EGLE) mapped out numerous groundwater locations where PFAS have recently been identified. Shockingly, PFAS contamination in Michigan is extremely widespread. Almost every country. It's important to keep in mind that the Michigan EGLE did not test every single groundwater site for PFAS, and that these data might not be representative of the actual scope. 
Michigan Sues 17 Companies For PFAS Exposure
Numerous lawsuits, including one filed just last week, aim to hold PFAS manufacturers and producers accountable. The state of Michigan is suing 17 companies for concealing scientific information regarding the health effects of PFAS in drinking water, while continuing to produce, distribute, and improperly dispose of these toxic chemicals. Some of the more well known companies involved in the suit are 3M, DuPont, and Chemours. If you're following this closely like us, you probably recognize these three names.
Michigan Leading The Charge In Congress
In early January the U.S. House of Representatives passed the most sweeping piece of PFAS legislation to date. The bill was sponsored by Michigan representative Debbie Dingel (D). She's been an extraordinary advocate for PFAS legislation and regulation from EPA. The PFAS Action Act of 2019 includes important strides to protect individuals from this emerging and unregulated category of contaminant. 
If this legislation passes, the following would happen: 
EPA would be required to set a national standard under the National Primary Drinking Water Standards for both PFOA and PFOS.

EPA would require action under its Superfund program, also known at the Comprehensive Environmental Response Compensation and Liability (CERCLA) to hold responsible parties accountable for mitigation.

EPA would be required to designate all PFAS as "hazardous air pollutants" under the Clean Air Act.

EPA would be required to authorize funding ($500 million over five years) to help municipalities across the country comply with new PFAS laws.
State Maximum Contaminant Levels
Michigan is also proposing state drinking water standards for seven different types of PFAS. These proposed levels are much more stringent than the nationally-proposed standards. For a bit of context, EPA is proposing a total combined PFAS standard of 70 parts per trillion (ppt). The Michigan standard would regulate seven different PFAS variations individually:
PFNA: 6 ppt
PFOA: 8 ppt
PFOS: 16 ppt
PFHxS: 51 ppt
GenX 370 ppt
PFBS: 420 ppt
PFHxA: 400,000 ppt
Private Wells Are Exempt From Legislation
This isn't anything new. Private wells are not regulated and therefore aren't required to meet any federal or state drinking water standards. They are completely on their own to test, monitor, and remove contaminants from their drinking water. This is especially scaring for private wells users that live in areas where PFAS is known.
Our Take:
There's no denying that this bill has the potential to be a huge win for communities across the country. It's sweeping scope will force states to acknowledge a problem that's been ignored for years. However, it's important to point out some of the things this bill will not accomplish. Like all other National Primary Drinking Water Standards, private wells are not covered under this proposed bill. This huge oversight puts millions of Americans at risk. Homeowners that have a private well are responsible for testing, monitoring, and removing any potentially harmful contaminants from their water, whereas those on "city water" rely on the municipalities water treatment capabilities. Testing PFAS at an accredited laboratory is extremely expensive and might not be a reality for some private well users. 
Removing PFAS At The Municipal Level Is Expensive
It would be shortsighted not to mention the cost of removing PFAS at the municipal level. The Cape Fear Public Utility Authority in Wilmington, North Carolina spent $35.9 million for PFAS removal equipment at one of their three water treatment facilities. Even with the $500 million added to a state revolving fund, the PFAS Action Act will put a serious financial burden on municipalities. This would absolutely accomplish some of what so many advocacy groups have been begging for for years: EPA's acknowledgement that PFAS is bad and accountability for companies that produce it. 
Other Articles You Might Enjoy:
Hydroviv's 2020 PFAS Update
What Are Per and Polyfluroalkyl Substances (PFAS)?
Military Bases Have High Levels Of PFAS