City Programs Invest in Green Solutions to Reduce Runoff
City Programs Invest in Green Solutions to Reduce Runoff
RSS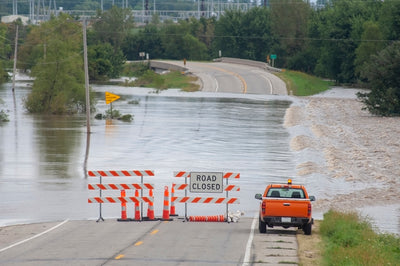 Emma Johnson | Scientific Contributor   
On September 10, 2020, a torrential rainstorm hit Washington, DC, dropping up to six inches of rain in a matter of hours in some places. Nearby waterways, like the northwest branch of the Anacostia River, rose eight feet in an hour, flooding streets and stranding drivers. 
One reason so much water ends up in the region's waters so quickly is because 43% of the city is covered in impervious surfaces like rooftops, roads, and sidewalks that immediately direct water into the drain, straight into the rivers and creeks. DC's Department of Energy & Environment (DOEE) says that a storm that drops 1.2 inches of rain produces about 525 million gallons of stormwater runoff. 
In addition to quickly flooding buildings and streets, stormwater runoff poses another problem: pollution. When water flows over impervious surfaces, it collects oil, pesticides, pathogens, or whatever else is on the surface and washes it into watersheds. This can contaminate drinking water and poison wildlife.
Controlling the volume of water remains a challenge for cities across the country. The Anacostia Watershed Society labeled stormwater runoff as one of the fastest growing sources of pollution in the Chesapeake Bay in it's 2020 State of the Anacostia Report Card.
City programs around the country are working to reduce the runoff volume and pollution by replacing impervious surfaces with green spaces that soak up water like a sponge. DC's RiverSmart Homes program, which started in 2007, helps homeowners reduce runoff by providing rebates on water bills and installing features like rain gardens and permeable pavement. Today, over 4,000 DC homeowners have participated all across the city. The program has also expanded to include schools and communities outside the city's limits.
Another city that is heavily investing in nature-based stormwater runoff mitigation programs is Philadelphia. The city created a $2.4 billion, 25-year plan in 2009 called Green City, Clean Waters, which aims to transform the health of the city's waters primarily through green methods. The city hopes completing this plan will reduce runoff volume by 85%. Philadelphia also offers grants to help property owners pay for stormwater retrofit projects and a fee for commercial customers that is based on the square footage of impervious surface on the property.
DC and Philadelphia are just two of hundreds of cities around the country that are investing in green infrastructure initiatives to reduce stormwater runoff. From Milwaukee, Wisconsin to Lenexa, Kansas, to Huntington, West Virginia, cities are seeing how rain barrels, permeable pavement, street trees, and more can reduce runoff, decrease pollution, and improve quality of life for their residents.
Managing stormwater runoff will remain a major challenge for cities in the future, especially in a changing climate. Runoff can be poisonous to the areas where we live, work, and play and create long-lasting health effects on local wildlife. Cities are rising to this challenge by turning impervious surfaces into green sponges to better protect the safety and health of all beings who live there.
Other Articles We Think You Might Enjoy:
What You Need To Know About The Current State of PFAS Regulation
Michigan To Pay $600 Million To Flint Residents
How Does Lead Impact Drinking Water?