Hydroviv's Water Filter Donation Program with Little Miss Flint
Hydroviv's Water Filter Donation Program with Little Miss Flint
RSS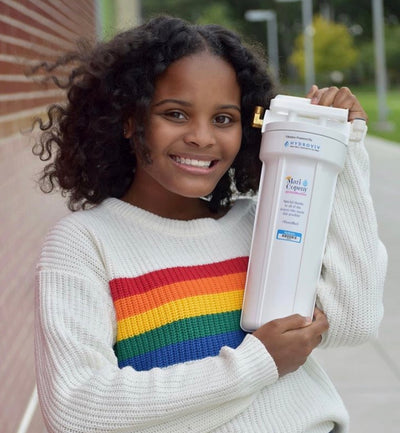 Hydroviv's Water Nerds
Little Miss Flint (Mari Copeny) has partnered with Hydroviv to help donate water filters to low-income families across the country. As of April 26, 2021, the Little Miss Flint Clean Water Fund has raised over $500,000. Mari even inspired us to provide these filters at our break-even cost, which translates to well over one million dollars worth of product. Many families impacted by poor water quality will now have access to an effective solution.
About Our Charitable Partner: Little Miss Flint
You may remember Little Miss Flint or Mari Copeny, as the face of the Flint Lead Crisis back in 2014. Mari was just 8 years old when she became one of the most prominent activists for the city of Flint, Michigan. After thousands of children in her community were exposed to unsafe levels of lead, Mari knew she needed to do something to help. Mari donated over one million bottles of water to families in Flint impacted by the high lead levels. At the beginning of the crisis, bottled water was the only resource for drinking water that the community of Flint could trust. After Hydroviv's Scientific Founder, Dr. Eric Roy, heard about the situation in Flint, he began developing and donating high-capacity lead water filters to child-centric organizations and families in Flint, Michigan. This is where we met Mari, and decided to form a partnership to address water quality issues together.
Cost of Impact:
Sustainability: Our filter donation program has a significant environmental impact by eliminating the need for bottled water. While plastic water bottles may be a short-term solution, they end up in landfills and the ocean, causing a host of other environmental problems.
Time: Most bottled water donation programs require physically going to a location and standing in line for hours just to receive a week's worth of water. Installing a Hydroviv water filter allows for tap water on demand, and eliminates the need to take time off work just to receive a basic human right.
Why Are Hydroviv Filters Different?
Not all water filters are designed to effectively remove high concentrations of contaminants found in tap water, and not all tap water is the same. Our scientific founder had this in mind when creating water filters for Flint, Michigan, and it still holds true today. Hydroviv Water Filters, including those being donated, are optimized to remove contaminants specific to any particular zip code.
Some communities have "free filtration programs" that are often created a significant amount of time after the problem has been identified. Most city officials choose the cheapest option on the market, and the water filters inevitably end up failing to remove contaminants. Newark, New Jersey had a lead crisis similar to Flint, Michigan throughout 2018 and 2019. In response, the city provided free Pur water filters to eligible Newark residents. Unfortunately, the filters distributed by the city did not perform to the levels that Newark residents were led to believe.
Hydroviv Specifications
Hydroviv Undersink Water Filters are NSF/ANSI 53 certified to remove lead. Hydroviv was included in a Duke University/NC State study that examined the effectiveness of residential water filters and their ability to remove PFAS. According to the study, water with PFAS present in the unfiltered samples had undetectable (below the Method Detection Limit (<MDL)) levels of PFAS after the water was filtered through a Hydroviv filter. The results from the Duke/NC State study were consistent with a previous study that looked at PFAS removal rates, including GenX. Additional studies show that Hydroviv filters remove Arsenic, Uranium, Chromium 6, and many other contaminants. Hydroviv is not in any way affiliated with or endorsed by Duke University, NC State University, or any of the researchers involved in the study.
How Can I Donate?
Click here
to donate or learn more about the Little Miss Flint Clean Water Fund.