North Carolina's Drinking Water Crisis
North Carolina's Drinking Water Crisis
RSS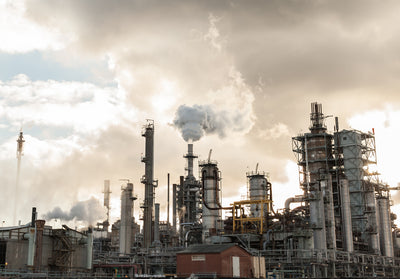 Analies Dyjak, M.A. |  Policy Nerd
**Updated 7/22/22 to reflect the most current information
The state of North Carolina and several non-governmental organizations have been battling with chemical manufacturing giant, Chemours, over pollution in the Cape Fear River. Dozens of communities draw drinking water from this river, and surrounding groundwater aquifers, which have been contaminated by a harmful category of chemicals called PFAS. The State and Federal Government have been relying on a Consent Order (legal settlement) signed in 2019. The intent of this Consent Order, however, was never meant to be the long-term solution to this decades-long problem. 
How Do North Carolina Residents Benefit From This Legal Settlement With Chemours?
A local nonprofit called Cape Fear River Watch sued Chemours and the state of North Carolina, resulting in a Consent Order. Under the consent order, Chemours is required to partake in a variety of different types of mitigation, including drastic reductions in air emissions and groundwater and stormwater discharge, maintaining offsite shipment of wastewater (until a permit is issued), providing water replacements for those with contaminated wells, on and offsite sampling, and conducting limited health studies, among other things. Although Chemours has completed some mitigation near the Fayetteville facility, PFAS levels in surrounding communities are still extremely high. You can check out the Compliance Site to learn more about the consent order and other mitigation actions taken by Chemours.

Under the Consent Order, residents, schools, and local businesses must have a concentration of GenX of 140 parts per trillion (ppt), (or any applicable public health goal, whichever is lower) or higher to qualify for a municipal hook-up, and meet the Department of Environmental Quality's assessment of whether or not a municipal hook-up is financially feasible. However, community members are reluctant to use municipal tap water because of how the recent contamination could impact surrounding water sources. EPA is likely to set a health advisory goal far lower than 140 ppt for GenX in 2022, and the Consent Order requires any State or Federal health advisory level be followed - even those made after the order was signed - so Chemours has been ordered to review/retest all wells with GenX in preparation for this change. 

The contaminated zone stretches at least 90 miles south into Wilmington, North Carolina and now 25 miles northeast of the Fayetteville Plant in Cumberland County. Chemours is required to install a water filtration system if a surrounding well test shows above 10 ppt for a single PFAS, or 70 ppt for combined PFAS (from the pfas listed in the attachment in the order). The filtration system is supposed to include 20 years of all costs to maintain - unless municipal lines are provided or the groundwater tests clean within that time. As of September 2021, 2,491 residents were receiving bottled water, 2,659 homes had Reverse Osmosis systems installed, and 103 homes had Granular Activated Carbon systems installed at their homes. 
PFAS Health Effects
It's well understood in the scientific community that PFAS contaminants including GenX can cause negative health effects at concentrations far lower than 140 ppt. The Agency for Toxic Substances and Disease Registry (ATSDR) determined in 2018 that GenX is considered toxic at 80 ppt, and an updated EPA 2021 Health Toxicity Assessment states that the toxicity threshold is now 30 ppt. In June 2022 the EPA announced a dramatic decrease in what they're considering a "safe" level for four PFAS in drinking water. It's not entirely clear how many PFAS variations are considered under "total PFAS." FDA and NIEHS believe there are as many as 5000 different types of PFAS, although recent studies suggest that number may be much higher, depending on how PFAS compounds are classified and identified. It is also worth noting that Chemours has just sent a petition to the EPA requesting that the toxicity assessment be reversed.
Why is North Carolina a "Hot Spot" for PFAS?
According to the Economic Development Partnership of North Carolina, plastic and chemical manufacturing in North Carolina is "growing at 1.5 times the rate of the national average." PFAS have been used in the production of Scotchgaurd, Teflon, firefighting foam, metal plating, stain-resistant fabrics, and heat resistant products. Industrial facilities that manufacture these types of products are not required to follow strict disposal processes, causing harmful chemicals to end up in waterways. It's important to note that the Chemours facility in Fayetteville, North Carolina is not the only company responsible for the pollution. Despite mitigation efforts and decreased overall production, many different types of PFAS, including GenX are still being detected in the Cape Fear River.

A recent study tested various areas of the Cape Fear River basin. Some PFAS samples taken at the entry point of the Wastewater Treatment Plant were as high as 2295.85 ppt for total PFAS. There is also inconsistent testing and lack of disclosure to residents in the contaminated zone. For example, the North Carolina Department of Environmental Quality detected extremely high PFAS levels in wastewater effluent in Holly Springs. There is no mention of PFAS on the Holly Springs website, nor are they required to test for it. EWG tested the drinking water supply in Holly Springs, and PFAS levels were reported to be 20 ppt. Also of note–North Carolina does not have an advisory goal for total PFAS, only GenX.
Little Miss Flint partnered with Hydroviv in 2020 to donate filters (free of cost) to residents in New Hanover County that do not qualify for filters under the Chemours Consent Order. The program distributed Hydroviv filters to low-income families who would otherwise be unable to purchase a water filtration system that is known to effectively remove PFAS.

Other Articles We Think You Might Enjoy:
EPA Threatens States' Ability to Protect Drinking Water
10 Health Effects Caused By Exposure To PFAS
Does My State Regulate PFAS?